COVID-19 Analyses


What if one can not only determine whether a person is infected with COVID-19, but also determine how badly that person is infected and how active the COVID virus is …… And what if a detailed immune response assessment can be done at the same time.…. And what if all this could be done quickly and easily multiple times and with short intervals per patient during the illness with only one highly accurate device?
Biotrack (The Netherlands) has launched a highly sensitive test kit for detecting and monitoring COVID-19 infections in patients and is about to launch a test kit for the detection and monitoring of serological response (IgG/IgM). The technology for these test kits is based on Biotrack proprietary knowledge and is applied with the BT-MED analyzer developed by Biotrack.
Both the analyzer and test kits are CE-IVD marked for the European Union.
Biotrack is pleased to offer both BT-MED, COV19 tests and serology test kits for COVID-19. The COV19 (SARS-CoV-2) Real-Time BT-MED test detects the presence of SARS-CoV-2, the virus that causes COVID-19. If positive, the patient can be quarantined and treated before the disease spreads. IgG/IgM antibody testing determines whether a patient has been exposed to SARS-CoV-2 and if the patient's immune system has produced antibodies against the infection. Antibody positivity likely means a person has recovered and may have protective immunity. Combining both tests into one set provides the healthcare professionals with a wide range of information allowing the detailed monitoring of COVID-19 patients.
With the newly developed Biotrack COVID-19 assay applied in the Biotrack analyzer, one can very accurately determine the "viral load" and "viral activity" of the COVID-19 virus in patients by making the mRNA of the virus visible.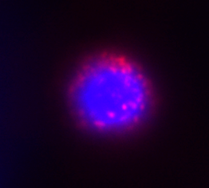 Applying this new Biotrack tool, creates a complete and up-to-date overview of any patient infected with COVID-19. But it also creates a much better insight into the virus and how it behaves. Until now there are still a lot of questions about COVID and Biotrack has developed the tool that can answer many of those questions.
Fig 1: BT-MED analyzer image showing a WBC (blue) and SARS-Cov-2 (red)
With the Biotrack test, very accurately all types of infected individual can be screened and monitored. Not only patients having the obvious COVID symptoms, but also those that are asymptomatic or those that suffer from the chronic effects of COVID.